Based on the Hatfield-McCoy feud, Our Hospitality focuses its narrative on the Canfields and McKays. After receiving a letter conveying that his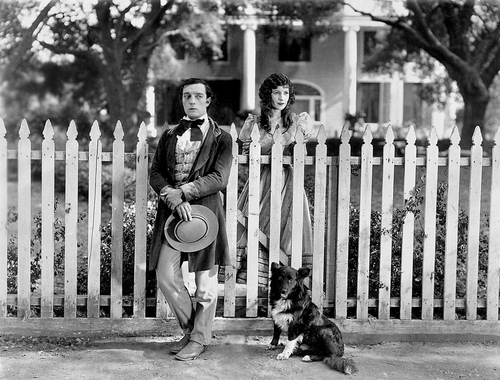 family's estate has been left to him, Willie McKay heads south from New York to investigate his father's old home. Although most of Our Hospitality was filmed in the Lake Tahoe regions bordering California and Nevada[1], the film conveys a distinctly Appalachian character through its settings. As young Willie McKay boards a train back to the family home, a title card imparts: "Onward sped the iron monster toward the Blue Ridge Mountains." The voyage following becomes a hazardous obstacle course, from the rustic train tracks to the presence of a donkey in the middle of the route itself. The background environment during these shots is appropriately mountainous and wooded, lending a rural atmosphere to the scenes. Our Hospitality director and star Buster Keaton was fascinated with railroads as well as with recreating historically accurate set designs, an effort that later led to the Smithsonian Institute requesting some of the film's set pieces be donated to their museum[2]. Keaton specifically chose to construct a replica of Stephenson's Rocket, an early steam locomotive that symbolizes what Our Hospitality performs as a film – a journey to an Appalachian homestead from an era long passed[3].
Regarding the Hatfield-McCoy feud upon which the film was based, the seeds of the conflict appear to have been planted in the late 1800s. A fight broke out on Election Day 1882 in Tug Valley, Kentucky, when the sons of Randall McCoy attacked Ellison Hatfield[4]. Ellison was unarmed while the McCoys had guns and knives, a disadvantage that led to his death. The Hatfields retaliated by killing Randall McCoy's three sons. A violent feud was thus born, sparking a plethora of further conflicts and deaths along the border of Kentucky and West Virginia. Historian Altina Waller attributes the discrepancies between the two families to the emergence of Capitalism in the Appalachian region, leading to increase of land value that stemmed from growing demand for timber. Randall McCoy had reportedly lost land, impoverishing his family and building animosity that led to the dispute4. The conflict between the Hatfields and McCoys is a distinctly Appalachian conflict and one that is echoed in Our Hospitality's settings, from Willie McKay's train ride to the wooded landscapes and raging river that contribute to its breathtaking climax.

---
[1] "Our Hospitality." TCM, http://www.tcm.com/this-month/article/443505%7C92534/Our-Hospitality.html
[2] "Our Hospitality 1923." San Francisco Silent Film Festival, http://www.silentfilm.org/archive/our-hospitality-1923
[3] "Our Hospitality 2019 Audio Commentary." Our Hospitality.
[4] "Hatfield-McCoy Feud Carries Lessons for Today." University of Connecticut, https://today.uconn.edu/2019/09/hatfield-mccoy-feud-carries-lessons-today/
https://a.ltrbxd.com/resized/sm/upload/1y/yc/9f/q9/our-hospitality-1200-1200-675-675-crop-000000.jpg?k=dde27e0035 https://static.tvtropes.org/pmwiki/pub/images/our-hospitality_3604.jpg http://leasingnews.org/images/OurHospitality.jpg